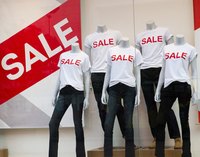 Running a promotion can give your company a jolt of vibrancy. But promotions are complicated and potentially risky, so when you go to present your idea, you need to be ready for a critical audience. Whether you're presenting to superiors, colleagues, investors or a test audience, rely on several fundamentals: Aside from introducing the topic succinctly and clearly, you need to know the big picture, the small details and the consequences. You also need to be enthusiastic about what you're proposing.
Identify the Big Picture
A good promotion isn't something you do for its own sake. It emerges naturally from some other, bigger goal, such as boosting sales, building brand loyalty, clearing inventory or attracting publicity. Just about anything your company does to interact with the public, other than selling your products and handling customer service requests, can be considered promotional. When you present a new promotional idea, you will encounter the question: "Why should we do this?" That's a big-picture question, and it needs a big-picture answer. Also be prepared for "Why this promotion rather than something else?" Be ready to make the case that your promotion is the right plan at the right time.
Master the Details
A good promotion is specific and requires a careful, purposeful design. Do your design work ahead of your presentation so you'll be ready to address questions about how exactly the promotion will work. Keep in mind, however, that details are tough for people to retain and can make a presentation run long, so use well-crafted handouts or slides to supplement what you're saying. Another possibility is to refer them to a protected company website that lays out the promotion in full. These help your audience come away with a better understanding of your ideas.
Anticipate the Consequences
It isn't enough to design a good promotion. You have to anticipate the consequences, too -- both of success and failure -- and have informed answers ready to go during your presentation. For example, you may face questions from your audience about public interest and scrutiny, positive and negative publicity, greater website traffic, higher sales volume in the short term and the potential for unanticipated costs. Talk about some of the most important consequences proactively, and outline the best- and worst-case scenarios to present a better sense of the range of possible outcomes.
Be Your Biggest Cheerleader
People will get more excited about your promotional idea if you're excited about it yourself. Designing a promotion that you genuinely believe in, and sharing your optimism in your presentation, will go a long way toward persuading your audience to get on board with it. Another smart way to get their support is to individually target members of your audience with opportunities to get involved in tasks or roles in the promotion. By giving them something specific to get excited about, you're making the project more real to them and creating a direct pathway for them to share in your excitement.