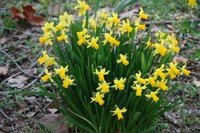 A Tête-à-Tête daffodil is a mini yellow daffodil that starts to grow and bloom in early spring. It reaches a height of only six to eight inches and each plant has about two to three blooms, which are about two and a half inches wide. It is one of the most popular Narcissus flowers in the bulb market and is widely used in rock gardens. Gardeners often use Tête-à-Tête daffodils along borders and in front of their gardens due to their short stature. They are also planted in pots, which can later be transferred to the garden.
Things You'll Need
Plant your Tête-à-Tête daffodil bulbs in well draining soil. If your Tête-à-Tête daffodil started out as a potted plant, let your foliage ripen and turn yellow or brown before you cut it back. You can then immediately replant your bulbs four to five inches deep and three inches apart in a sunny or partly shady spot in your garden. It may not bloom the next year, but should the following year. If you purchased your bulbs, plant them in the same manner, but in the fall. Be sure the point of the bulb is sticking up when planting.
Let the Tête-à-Tête daffodil's foliage ripen before cutting it back. You may be tempted to cut your plant since it is no longer blooming, but by holding back, you are allowing the daffodil to store enough nutrients for the following year. Wait until the foliage turns a yellow or brown, about eight weeks after the blooms die, and then cut all the way to the ground with clippers.
Fertilize your Tête-à-Tête daffodil. When you first see green popping up in early spring, it's time to fertilize. Also fertilize when your Tête-à-Têtes are in full bloom. Use a low nitrogen fertilizer and follow manufacture directions since fertilizers come in varying strengths and release rates.
Divide your Tête-à-Tête daffodils. Your daffodils will multiply without you even trying. When it becomes overcrowded, about every five to 10 years, dig them up when you cut back their foliage. Immediately replant them in a different spot or store them in a well-ventilated area where temperatures do not reach above 90 degrees. Then, plant the bulbs again in the fall.