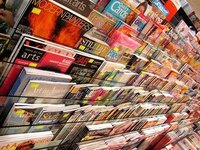 A small print magazine has a maximum print run of 5,000 for each issue due to its regional scope or niche topic. While People and U.S. News and World Report get enough subscriptions to warrant large print runs, literary journals and niche publications limit the number of magazines they print each issue to match the size of their readership. Small print magazines may not get the attention of their more prominent competitors but they offer viewpoints and information that aren't available elsewhere.
Locate an area printer who is willing to produce short-run magazines at relatively low costs. Small-print runs tend to be expensive since the printer has to adjust binding and colors for each run. Ask for quotes on pre-press formatting, color printing, binding and mailing from printers to put these costs into perspective.
Create a publishing calendar for your small-print magazine that takes your budget into account. Small-print magazines are typically bimonthly or quarterly publications that focus on producing a few high-quality issues each year. Start with a quarterly magazine if your budget is a concern as it is easy to move to bimonthly or monthly publishing if your publication takes off.
Outsource your writing, editing and formatting to freelancers to keep your small-print magazine's overhead costs low. As a magazine publisher, you may need to contribute articles and help with editing as you find freelancers who can handle these tasks each issue.
Opt for full-color photography, graphs and other visual elements to grab the attention of bookshop patrons. Start each issue by soliciting a colorful photo from a freelance photographer that matches your magazine's theme. Utilize photos with Creative Commons licenses when applicable to keep your per-issue costs low. Remember to cite the creator of the photo and the location of his work as part of the Creative Commons license, an alternative to copyright restrictions that allows free use of photos as long as attribution is provided.
Negotiate a deal with a distributor that can get your small-print magazine in front of the right audiences. Larger distributors like RCS Publisher Services have access to thousands of retail outlets who look for diverse magazine offerings. Distributors act as middle men between publishers and retail outlets, connecting niche publications with bookshops and non-traditional retailers that cater to the publisher's target market.
Establish an online presence for your small-print magazine to create an ongoing dialogue with your readers. Use articles that did not make it into the last issue as "online exclusive" and allow comments and forums for interested readers. Allow your writers to become online personalities by giving them blogs attached to the magazine's website. Your magazine's website can earn money by selling advertising space and running an online store for subscriptions.