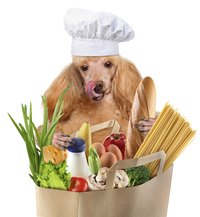 More and more people are eliminating meat from their diet for ethical, environmental and health reasons; many have switched to vegetarian fare for their dogs as well. While dogs may love meat, they are not true carnivores like cats but opportunistic omnivores. Their wild counterparts consume grasses, berries, nuts and other vegetable matter, in addition to the stomach contents of their vegetarian prey. Vegetarian cuisine not only appeals to your pup's taste buds, but also lends itself to countless creative dishes that will make boring kibble a thing of the past.
Health Benefits
Dogs do well on a predominantly lacto-ovo vegetarian diet that includes dairy products and eggs along with plant-based foods. According to "Dr. Pitcairn's Complete Guide to Natural Health for Dogs and Cats", meat could contain pesticides, chemicals and heavy metals. Organic produce, dairy products and hormone-free, free-range eggs are less likely to contain contaminants. Be sure to check with your vet before changing your dog's diet.
Introducing the New Diet
Prior to embarking on any new diet, consult your vet to ensure you're feeding a balanced diet in the correct ratios appropriate to your dog's size and caloric requirements; she may recommend dog vitamins. Introduce new foods gradually; mix a little into the food he usually eats, and gradually increase the amount of the new food over a period of 10 to 14 days.
Cheese & Veggie Polenta Recipe
Versatile, economical and nutritionally sound, Cheese and Veggie Polenta is delicious for breakfast and dinner. The recipe makes about 5 1/2 cups with 230 kilocalories per cup. Feeding guidelines are as follows:
For toy dogs, weighing up to 15 pounds, a daily ration is 1 1/2 to 2 cups.
For small dogs, weighing 15 to 30 pounds, a daily ration is about 3 1/2 to 4-1/2 cups.
For medium dogs, weighing 30 to 60 pounds, a daily ration is about 6 to 7 cups.
For large dogs, weighing 60 to 90 pounds, a daily ration is about 8 cups.
For giant dogs, weighing over 90 pounds, a daily ration is about 10 cups.
Ingredients and Preparation
You'll need the following ingredients for Cheese & Vegetable Polenta:
4 cups low-fat milk
1 cup uncooked cornmeal
2 large eggs, beaten
½ cup grated, low-fat cheddar cheese
½ cup cooked peas, corn, carrots or zucchini
1 teaspoon safflower oil
Vitamins recommended by your vet
100-200 IU vitamin E
15 mg. vitamin B12
1 tablespoon dried parsley
Scald the milk, stirring constantly to avoid burning and add the cornmeal quickly with a whisk. Blend until smooth and then cover and simmer about 10 minutes until the cornmeal is soft and mushy. Fold in the cheese, eggs, oil and vegetables. Let the mixture cool for a minute or two, and then blend in the supplements. Pour the polenta into a casserole dish, spread evenly and sprinkle with parsley. Refrigerate to set and cool to room temperature. Cut into squares and serve.
Food Storage
Most vegetarian food stores well in the refrigerator for up to two days. For convenience, cook large batches and store in airtight, portion-sized containers in the freezer. Thaw as needed by adding a little warm water and stirring with a fork.