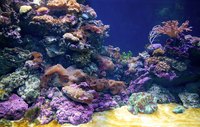 Building your own aquarium stand is not a light task. A poorly built stand can go from a fun-but-challenging DIY project to a total disaster if the stand falls apart with hundreds of dollars of aquarium gear aboard. However, if you are undeterred and know your way around power tools, it is possible to build your own aquarium stand, as long as you take care and do not scrimp on your craftsmanship. If you build your own stand, you are not limited to the premade stands on the shelves of your local pet shops, and can customize you stand to fit your taste and decor.
Things You'll Need
Measuring tape
2-by-6 boards
.5 inch thick plywood, A/C grade
Circular saw
Hammer
Nails, at least 3 inches long, but less than 4 inches
Wood screws, 3 inches long, optional
Power drill
Header brackets
2-by-6 metal header brackets
Shims
Level
Jigsaw, optional
Metal straightedge, optional
Wood finish, optional
Laminate, optional
Utility knife, optional
Measure your aquarium's footprint. There are two standard sizes of 55-gallon aquariums. If you bought it secondhand, there's always a chance someone rounded the size or remembered it wrong. The two standard-size 55-gallon aquarium footprints are 48.25 long inches by 12.75 inches deep or 48 inches by 13 inches.
Draw out a schematic of your stand. Having a rough diagram can help guide you as you build the stand. Calculate how large you stand will be. Add at least an inch to your aquarium's footprint to figure out your minimum size. For both standard sizes of 55-gallon aquariums, this means that your minimum footprint will be 49.25 inches by 14 inches.
Cut four 2-by-6s into 45.25 inch lengths. Nail these together with scrap plywood A/C plywood sandwiched between them. The exact dimensions of the A/C plywood does not matter so long as it does not stick out from between the 2-by-6s, as the plywood only acts as a spacer.
Cut two 49.25 inch lengths of 2-by-6s. These will form the bottom of the front and back of the frame.
Cut the supports that will join the top and bottom of your front and back frames. The exact height will vary based on how high you want your tank. You will need two side supports, which will be the desired height of your aquarium stand, and six smaller lengths of 2-by-6s that will be the desired height minus 8 inches.
Attach the header to the bottoms. The longer supports will attach on the outside of the header and bottom boards. Use either nails or woods screws, and drill pilot holes to avoid cracking the wood. Attach the three supports to both the front and back frames, equally spaced between the sides.
Cut eight 2-by-6 into eight 10-inch lengths. You will use these to join the front and back frames. Use a total of four of the frames, oriented vertically, to attach the front and back frames to each other at the corners. You will use one more in the center bottom of the frames to reinforce them.
Attach six metal header brackets to the front and back pieces. You will do this with either nails or screws. Position them in pairs, with one on the front piece and one on the back piece per pair. Evenly space the brackets along the top of the front and back pieces to join them together. Once in place, the last three 10-inch lengths of 2-by-6s will fit into place, further reinforcing the frame.
Cut your plywood into four "skins" to cover the frame of your stand. The top will have dimensions of 49.25 inches by 14 inches, but front and sides will vary based on the height you choose. A/C plywood has a good side, the "A" side, and a lower-quality side called the "C" side. Attach your plywood with screws or nails, A-side out.
Using shims and a level, make certain that your aquarium is level.
After covering the stand in plywood the stand is functional. But if you wish, you can cut a window in the front plywood panel of the stand and attach a cabinet door so you can use the stand as storage for fish equipment or even a sump. At this stage, you could use varnish or your choice of wood stain to make the plywood match your house's decor scheme. Along similar lines, you can carefully cut sheets of laminate to cover your aquarium stand to allow for further customization. Depending on how much time you spend on this stage, you can make it look like a professionally made aquarium stand.