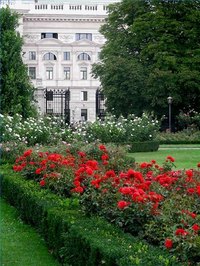 Left to her own devices, Mother Nature does an effective job with the bounty of resources she has to work with. Recreating some of that splendor in a man-made space, such as a backyard, community park or corporate plaza, however, requires the imagination and design skills of a trained landscape architect. Here's what you need to know to break into this field.
Things You'll Need
Landscaping design software
Digital camera
Business plan
Business license
Test your artistic abilities with 3D gardening software programs that allow you to design original landscapes from scratch. There are a number of these products on the market that come in a wide range of prices. They not only let you experiment with the placement of trees, shrubs, and flowers, but also incorporate items such as walkways, water elements (i.e., swimming pools, ponds and waterfalls), gazebos, outdoor recreation and playground equipment. You may even want to invest in a program that lets you upload digital images of existing landscapes and see what your replacement plantings will look like in 5, 10 or 20 years.
Enroll in accredited landscape design classes at a university. These will introduce you to the rudiments of horticulture, weather conditions, plant diseases, soil conservation, irrigation systems, ecology, site design and construction. You will also need to take classes in computer-aided design (CAD) because the majority of layouts you will be doing for clients will be in an electronic format. Supplement your education by enrolling in distance learning classes in landscape design and reading books and trade magazines about gardening and outdoor living spaces. Familiarize yourself with the duties and demands of today's landscape designers by visiting the Bureau of Labor Statistics website (see Resources).
Pursue undergraduate and graduate degrees in Landscape Architecture. Suffice it to say, while many landscape designers have a natural gift for creating pleasing styles that blend form and function, the amount of money a residential or commercial client is going to spend for professional design services carries an expectation that you'll at least have a bachelor's degree.
Take a part-time job in a nursery or as a docent at a local botanical garden. Find a mentor who can answer all of your questions about climate and regional vegetation. Volunteer to improve your friends' yards for them; not only will they get the benefit of your expertise, but you'll get the benefit of extra practice. Get an internship with a landscape designer where you can acquire hands-on training working on residential and/or commercial projects. In addition, this will introduce you to the business side of running a design company, managing subcontractors, meeting deadlines and dealing with diverse personalities.
Take the Landscape Architect Registration Exam. You'll need to pass this exam successfully in order to get your license and start your own design company. In most states, continuing education classes are required in order for your license to be renewed.
Develop a business plan. Specifically, you'll need to determine what type of landscape design planning you want to specialize in, what types of subcontracting relationships you'll need to foster and how to market your services to the community. You should also develop a fee schedule for your services. Websites such as CostHelper.com are worth a look because these are the very sources that consumers turn to when trying to decide which firm they should hire. The amounts you charge will be based on whether you are consulting on drawing-board concepts or overseeing an entire landscaping project, such as a playground, park, business complex or residential neighborhood. Further, you will need to factor in whether the client will be taking care of the project's maintenance himself after you are finished, or whether you will be returning on an ongoing basis to ensure that everything is properly up-kept. Call around and find out what your competition is charging for comparable services.
Acquire a business license, register the name of your company with the Secretary of State's office, and develop a professional website and marketing materials, such as business cards and brochures. As your business starts to blossom, you'll want to include before and after photographs as well as testimonials from your clients. Establish yourself as an expert by writing landscape design articles, reviewing books about landscaping, teaching workshops and posting blogs. Always include the name of your design company and its website as part of the signature block in your emails.
Network with contractors and realtors in your community who will be in the know regarding upcoming properties being developed. Join your local Chamber of Commerce; this will bring you into a broad circle of prospective clients. Take drives around the neighborhood and make note of which yards could benefit from your design expertise. Mail them brochures of the services you offer. Sweeten the deal by offering introductory discounts. Take out ads in the weekly newspapers that will direct readers to your website. If your budget can accommodate it, consider purchasing mailing lists to targeted zip codes or utilizing online print shops such as VistaPrint, which allow you to upload your own design to the face of a glossy or matte postcard. They'll even mail out the finished product for you.
Join organizations such as the Association of Professional Landscape Designers, the American Nursery & Landscape Association and the American Society of Landscape Architects. These groups will not only allow you to network with your peers but also to stay abreast of new design trends, find job opportunities and ask questions of industry pros.