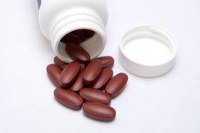 Arginine is an amino acid that is typically sold in supplement form as L-arginine. According to the National Institutes of Health (NIH), most people do not need arginine supplements because is is found in many common foods. The NIH has found that arginine may be useful in treating heart disease and clogged arteries because it prompts the blood vessels to relax, although more research is needed to prove this connection. Additionally, arginine is often used in bodybuilding due to its role in protein creation in the body.
Things You'll Need
Good dietary sources of arginine, if applicable
Talk to your doctor before you start taking arginine supplements. The NIH has found that arginine can interact with many different medications, including Viagra, Zantac and even over-the-counter drugs like aspirin and ibuprofen. Your doctor can determine if arginine supplements are safe for your condition.
Do not use arginine if you are under 18, pregnant or breast-feeding. The effects of this supplement on these groups have not been studied extensively.
Take 2 to 3 grams of arginine up to three times per day, according to NIH guidelines. Arginine supplements typically come in capsule form and should be taken with a glass of water along with a meal. Since the size of arginine supplements may vary based on the manufacturer, follow individual product instructions or the advice of your doctor.
Stop taking arginine supplements if you develop any troubling side effects. Common side effects include upset stomach, cramping and increased frequency of bowel movements. Arginine may also increase potassium levels and cause low blood pressure.
Do not take arginine supplements if you also take ginkgo biloba supplements. Arginine may increase your risk of bleeding and it appears that risk is increased when taken along with ginkgo biloba.
Try to get arginine from whole foods if you can. Many types of nuts are good sources of arginine, especially walnuts, pecans and hazelnuts. Brown rice, barley, raisins and oats are also good dietary sources of this amino acid.