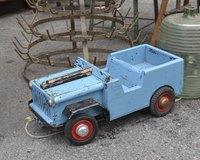 It really isn't difficult to make money with other people's castoffs. All you need is a strategy and some creativity. By keeping your mind, eyes and ears open for opportunities, you can help the earth and add money to your bank account at the same time.
Things You'll Need
Old utensils
Shredded paper
Contact your local trash company or sanitation department to inquire when it offers pickup of bulky items. Normally, if an item is put on the curbside, it's considered free to whoever can haul it off first. Borrow a truck if you have to, bring a friend, dress comfortably and start early on the designated date. Wear work gloves to protect your hands. If you find a piece of furniture that is workable for your skill level, then grab it quick and continue scouting out all curbsides in the vicinity. Your free furniture find can be refurbished, redesigned and sold to make money.
Strategically plan garage sale routes. Note ending times that are listed for each sale. Work your way around the sales at day's end as homeowners begin to pack up leftovers. Offer to take any freebies off their hands, but be prepared to take whatever is given. Often, owners are tired and just want to clear out their garage or living space and will gladly give you leftover items. Make sure you have a vehicle capable of hauling away the free stuff. When you get home, sort the treasures from the trash. You can sell your newfound treasures at your own garage sale or a local swap meet.
Check the "Free" section on Craigslist.com for your area. It's a good idea to check this category daily, as items listed usually don't last long. These free items are sometimes not even considered trash. Usually, owners just want more space. You can make money by taking items off their hands.
Recycle free bottle caps into jewelry pieces. If you don't have enough bottle caps in your home, ask bartenders in your area. You can make jewelry, beaded curtains and belts out of bottle caps. Sell your bottle-cap designs on the Internet to make money; you can list them free on Craigslist.
Recycle free trash into one-of-a-kind and serviceable works of art. Make pretty wind chimes or picture holders to sell using old utensils.
Use paper shredder remnants to make some beautiful handmade note paper. Sell recycled note cards and paper online or at local craft fairs.