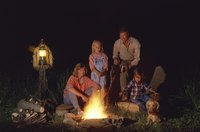 To many people, the concept of a vacation has come to mean spending a lot of money to visit an exotic location. While you can have unusual experiences this way, going on an expensive trip often adds stress to your life, defeating the purpose of a vacation. Take a break while being frugal and have a fun vacation for $100 or less. You'll relax and unwind without breaking the bank.
Camp for a way at local or state park for a relaxing getaway for very little money. Borrow a tent and other camping supplies from friends or relatives if you don't own any. Avoid private campgrounds and choose a state park with low site rental costs. Pack food from your refrigerator and cupboards to save money on cooking supplies. Make sleeping bedrolls out of blankets instead of investing in expensive sleeping bags.
Relax for a week at home for an inexpensive "stay-cation." Clean the house and wash the laundry ahead of time so you're not tempted to do chores and catch up on work. Allow each family member to pick the dinner menu for one night, as if you were going to a variety of restaurants out-of-town. Rent dollar movie DVDs or borrow them from the library for family movie nights. Treat yourself to an at-home spa day, spend an entire day reading a favorite book or take a day to do crafts or play board games with the children.
Play tourist in your own home town. Research the local area to find tourist attractions you may not have visited. Go to petting farms or on factory tours, or check out the architecture of the nearest large city. Tour the state capital and learn history. Find out what tourists do when they visit your state and do it yourself. You might have ignored attractions in your backyard just because they're there every day.