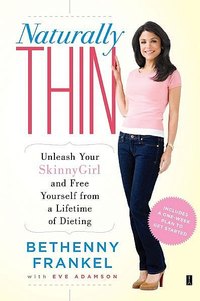 How to Be Naturally Thin. "Naturally Thin" is my How To book for everyone. It shows you how to banish your heavy habits, embrace thin thoughts and enjoy satisfying meals, snacks and drinks without the guilt. Below is a look into the Naturally Thin rules.
Your diet is a bank account. This most important rule is the guiding principle behind the Naturally Thin program. No matter what you decide to eat, base your choices on balancing throughout the day.
You can have It all, just not all at once. Life is about choices. You can eat whatever you want, and you should eat a variety of things to make food as interesting and nutritious as possible, but at the same time you need to keep it simple.
Taste everything, eat nothing. Why shove a bunch of food into your face when you can taste small perfect bites of delicious food and stop before it ever gets ugly? Be choosey and discerning, especially when you have a lot of great choices.
Pay attention. Never eat until you are ready to pay attention to what you are doing. Don't eat while standing up, working, driving or watching television. Sit down, experience your food and savor it so that your body registers the meal.
Downsize now! Forget supersizing. Downsizing is your new way of life. East from smaller plates, bowls and glasses, and cultivates a new sense of portions.
Cancel your membership in the clean plate club. Quit finishing everything on your plate. The fact that it's there doesn't mean you have to eat it. Instead, share your food, save it for another meal or just leave it when it really isn't very good.
Check yourself before you wreck yourself. This rule encompasses one of the most important things you can do for yourself: stop binge eating. Never do it again. You are the master of your own life, so step up.
Know thyself. As you reframe your habits, you have to know yourself and customize the way you eat to fit who you are.
Get real. Whenever possible, when you have the option, without getting obsessive about it, choose real, organic, local, seasonal food instead of fake, processed food.
Good for you. Every habit you change should come from a gentle place of caring for and loving yourself. No matter what you decide to do, how you decide to eat and who you decide to be, let yourself be guided by what is good for you, ahead of anything else.