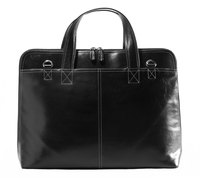 Handbags are indispensable in women's fashions. If you have ideas on creating new styles of handbags, you'll need to go through the stages of imagining, drawing and finally creating real-life prototypes. The idea begins as a drawing and then evolves into a pattern and eventually the finished product -- a handbag.
Things You'll Need
Markers
Scissors
Colored pencils
Craft paper
Ruler
Fabric
Hardware and materials
Sewing machine
Matching Thread
Sketch the idea for your handbag design on paper. You may include the shape and dimensions of your bag, or a list of all the features your handbag needs to have when your finished.
Think about the purpose this bag will have and its functionality. Determine if it will be an evening bag, day bag, tote bag, messenger bag or cosmetic bag. Add pockets, snap placements, flaps, and other gadgets to your drawing.
Consider the types of material that will be used for the handbag's construction and the color pallet available for those materials. This can be very important due to the availability of materials in the chosen colors of your design. Different types of material will also affect the weight, durability and the textured feel of your handbag.
Measure and draw out your pattern pieces using craft paper or the backside of gift wrap paper. Use a ruler, pencil and other objects to round and form the shapes you need to size. Mark each pattern piece by number or placement. For example, you might write, "Front," "Back," "Side," "Pocket" or "Strap."
Test your pattern out on scrap fabric before making a prototype. Write down directions for yourself as you see fit. During the test run of creating your handbag design, adjustments or modifications are usually required.
Stitch your handbag together to produce a rough prototype. You can also contract with a technical designer to turn your idea into a full-blown prototype.