Getting a child diagnosed with attention deficit hyperactivity disorder, or ADHD, to sit down and eat is challenging and may be even more distressing if your child is underweight. However, making changes to the eating environment and finding ways to add healthy calories to your child's diet can help improve intake and promote weight gain. Consult your pediatrician before making significant changes to your child's diet.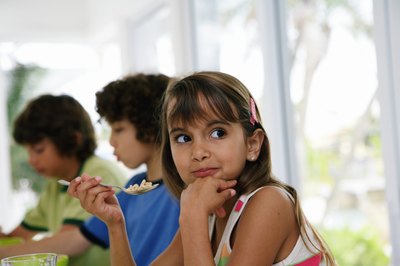 Set the Scene
When you're trying to get your child with ADHD to eat better to gain weight, start by making sure the eating environment is free from distraction. Designate a place for your child to eat all his meals and snacks and turn off the TV to improve attention. Routine might also help with behavior, so keep meals and snacks at regular times. To limit excitability and hyperactivity, keep mealtimes as calm as you can by allowing your child to reject what's offered without argument and praising him when he eats well.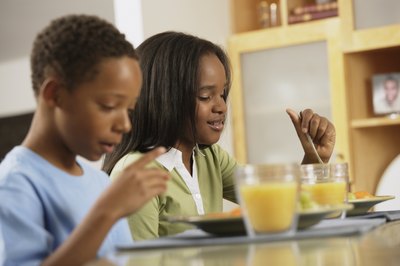 Increasing Calories Peacefully
To limit the arguments that may ensue when trying to get your child with ADHD to eat more, start by adding calorie boosters to the foods she already eats. To boost calories and protein, you can add nonfat dried milk powder to a variety of foods, such as milk, hot cereal, soup, mashed potatoes, macaroni and cheese, yogurt, meatloaf and pudding. Oils are also good calorie boosters. Use them during cooking, and add to salads, grains and pasta to increase calories in foods.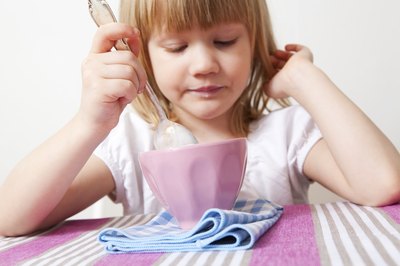 Healthy High-Calorie Foods
While junk foods are certainly loaded with calories, they're not the best way to go when trying to get your child to gain weight. In addition to being unhealthy, these foods may also be filled with additives that may affect your child's behavior even further, according to the Center for Science in the Public Interest
Instead, offer your child foods that are not only high in calories, but full of nutrients that promote good health. Healthy, high-calorie options to add to your child's weight-gain diet include nuts, dried fruit, cheese, eggs, whole milk or cream, avocados and bean dips such as hummus.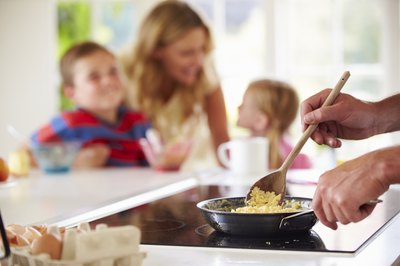 Offer Snacks
Snacks are an important part of a weight-gain diet and are a good way to add calories without a fight. A smoothie, for example, makes a good snack option that can really help you pack in the calories. Make it with milk or yogurt, fruit your child likes and add avocados or nonfat dried milk powder to boost its calorie content. Trail mix also makes a calorie-dense snack option for your child. Cheese and crackers, yogurt with granola, and hummus with pita bread and veggies can also help your child consume more calories.