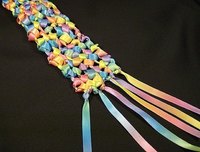 Scarves are all the rage this season. You can knit, crochet, weave or even macramé a beautiful one for yourself or a loved one using ribbons. For springtime, a narrow ribbon scarf in rainbow colors will dress up any outfit without weighing you down.
Things You'll Need
Ribbon:
3/8" X 144' = (12 spools @ 12' each) to make a 4-5 foot scarf.
1 spool 1/8" ribbon.
+ ribbon for fringe
Needles, if you knit.
Hook, if you crochet.
Clear nail polish or fabric glue- optional+
This is a macramé pattern. Macramé is simply a series of knots. Cut four equal lengths of ribbon. This is called your "knotting cord." The 1/8" wide ribbon is is called your "knot bearer."

Tape or pin the midpoints to your work surface, letting the ends hang down. Spread the ribbons in front of you and start working left to right. Holding the first ribbon (knotting cord) in your left hand, loop it around the knot bearer as shown; first loop it to the right, then to the left, then poke it through the loop you have formed. Tighten it by holding your knot bearer tightly in a horizontal position and pulling the knotting cord gently into place.
Repeat with the next ribbon, and continue working to the right. When you reach the end, turn and work to the left. Continue working down the ribbons until you reach the end.
Keep the knots loose, and adjust as you go.

Continue working left, then right, then left... until you have used all your ribbon. If your ribbon is too short, you may tie another onto it, but the knot will show. You may prefer to glue it end-to-end, using fabric glue.
Finish off by knotting the ribbon ends. Cut the ends at an angle to keep them from fraying.

Finish by knotting the ends to make a fringe, or by knotting on more ribbon for fringe. Make the fringes as long as you want.
I chose to macramé this scarf because 1.) I don't knit very well, and 2.) macramé can be stretched to make a longer scarf. If you knit or crochet well, you can use ribbon, or to save money, you can knit a yarn scarf and finish it off with ribbon.