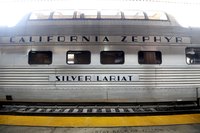 You can get a taste of an Amtrak vacation by planning a short rail trip. Rather than have to face the hassle of more limited plane schedules, cramped seating and increased airport security, consider a mode of travel that has two centuries of history behind it. Start off by planning a short rail trip at Amtrak's website. Make it really special by bringing along a significant other.
Scout out locations for possible trips. These might include any of the following:
Dallas to Austin Houston to New Orleans Anywhere on the upper East Coast Los Angeles to San Diego Denver to Glenwood Springs, Colorado Portland to Seattle Cleveland to Chicago Chicago to Minneapolis Savannah to Charleston Seattle to East Glacier Park, Montana
Pick a small route. Find the Amtrak station closest to your home. Plan on taking a train ride in the late afternoon or early morning so you can enjoy a meal in the dining car. Try to coordinate your travel with one of the meal times.
Find a destination about three to six hours from your departing station and choose to exit the train there. Look for a town that has lots of tourist activities. It should be walkable or have good public transportation. Renting a car is also an option. Spend the night there and explore the town.
Make reservations in the dining car for breakfast, lunch or dinner. It is one of the highlights of the trip. The train personnel try to fill up the tables. It might be a little off-putting dining with strangers, especially if you are alone, but it can be a great experience meeting new people and hearing their stories. Take the plunge and you'll be pleasantly surprised.
Walk from car to car during the ride and explore. Soak up the scenery in the observation car. There are tons of windows for viewing the countryside. Most of the vistas can't be seen from highways.
Go downstairs to visit the small lounge where you can order wine or a drink. The staff is friendly, so tip on the train just as you would for good service anywhere.