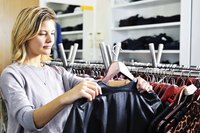 Not everyone's budget makes room for the best in style, but that doesn't mean you can't fake it. Save your wallet the stress of overspending on trends that last no longer than a year or two -- then end up languishing at the back of your closet or straight into the thrift-store bin. Instead, elevate your inexpensive garments with a little creative tailoring, a few higher-end basics and a lot of love to get a beautiful mix of high and low in your wardrobe.
Tailor Made
Tailor your low-end wear to mask its origins. A good fit can make some garments look better than their expensive counterparts. Ask a tailor to repair sewing mistakes or missing buttons; then get hems raised, trousers slimmed and waists fitted. Replace ugly plastic buttons with fancier mother-of-pearl or metallic options. Get creative with your accessories, too -- change out cheap handbag handles and remove any additional straps or less-than-chic extras like charms.
Fashion Accessory
High-end wear tends to feature more detail work than cheap alternatives, so fake it with a few extras. Swap the built-in belt on a basic dress or trouser with a quality leather, bejeweled or metallic belt. Embellish a low-end top with a chunky necklace or a brooch pinned at the collar. Wear a cheap sweater with a brilliantly patterned button-down shirt that shows only at the cuffs and collar. Never repeat textures in an outfit -- pair garments in different fabric types for a more luxe look.
Clothing Care
Avoid the washer and dryer, which will fade your clothes fast; dry clean everything you can or let your clothing air-dry after a gentle wash. Also avoid the traditional iron and get well-acquainted with steam irons for more delicate approach. At the end of the day, store your clothes with care. Stuff unused bags with tissue to preserve the shape and hang clothing only on wooden or felt hangers. When clothing or shoes wear out, replace or repair them swiftly to keep your wardrobe away from the "low" side of high-low.
Investment Pieces
Timeless, classic clothing articles that will last many seasons without going out of style should come first in your fashion priorities. Don't waste money on high-end trendy styles -- instead, put those dollars toward building up staple items you can't improve on your own. Coats, boots, handbags and denim don't always do well at a lower price point, particularly in the cases of distressed denim and faux leather. Fill out your closet with high quality shoes, winter wear and accessories to make your cheaper pieces look better by association.
Be Selective
Cheap fabric or embellishments and poor construction in clothing are a dead giveaway -- you bought your clothes at a low-end or junior's shop, friend. But that's okay -- not all fast fashion looks that cheap. Be selective in your choices of low-priced items, and go for the best possible fabric options in neutral colors. Pick items with complex construction like pleats or gathers only if the garment looks even and neatly executed.