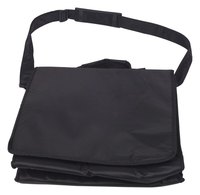 Personalized canvas tote bags are pervasive, often given away as prizes, and useful for travelers. Tote bags provide years of use; thus, for a business wishing to spread its name or draw attention to its products, emblazoning its name on a canvas tote bag is a worthwhile marketing idea. You can easily make this happen and give your business some enduring exposure in many venues.
Assess what you want the bag to show. Perhaps this is merely your company name, logo and contact information. Perhaps you want to include a tagline.
Print your company's graphic logo on standard-size paper. Ensure it is 3 inches by 5 inches or 3 inches by 3 inches. For reference, check canvas tote bags at a store. Never make the picture for the canvas tote bags too big or it will seem distasteful.
Contact a custom imprinted products manufacturer. Try and locate one that prints grocery plastic bags because it will likely offer the best prices and stock a nice supply of bags. You can also simply buy the bags at wholesale but have a local T- shirt shop do the imprinting.
Stick with a single color for your logo for the best effect, though the manufacturer will offer multiple colors.
Get the best price. Do not be afraid to say the price is too high and make more calls. When you think you have found the best price, explore even further both by phone and online to verify.
Give away the bags at colleges, high schools, swim clubs, work sites and any other places where name recognition for your company is important. Distributing it at malls accomplishes nothing.