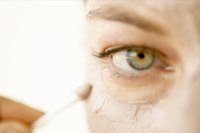 Acne and blemishes are annoying and unsightly. Fortunately, makeup can help cover them up and make them less visible. Foundation, concealer and face powder are all you need to hide acne or blemishes. Foundation is a tinted liquid makeup that helps even out your skin tone and make any redness or splotchy areas less visible. Concealer is creamy, tinted makeup applied to individual spots and blemishes. Face powder is an oil-absorbing powder that prevents the makeup from rubbing off. It's important to choose makeup that closely matches your skin tone or it will look unnatural.
Things You'll Need
Liquid foundation
Concealer
Face powder
Makeup sponge
Makeup brush
Powder puff
Skin cleanser
Oil-free moisturizer
Cotton swab
Wash your face with a gentle skin cleanser. This will remove any oil, grime or dirt from your face and prevent makeup from rubbing off easily. Dry your face and apply an oil-free moisturizer.
Apply a small amount of foundation on a makeup sponge. Place a small dot of foundation on your forehead, in the middle of each cheek and on your chin. Using the sponge, blend the foundation outwards towards the side of your face into your jaw line and hairline.
Apply another dot of foundation on your nose and directly under each eye. Using the sponge, blend each dot into the other areas you have applied foundation so that your entire face is an even color.
Apply a small amount of concealer to any visible acne spots on your face. Dab the concealer onto a cotton swab and blend it into the pimple or blemish. Cover all acne spots or imperfections on your face with concealer before applying powder.
Apply a small amount of powder to a makeup brush or powder puff. Lightly sweep the brush or powder puff over your face. Don't press too hard as this will smudge or remove the makeup. Cover your entire face with powder to help absorb any oil on your skin.
Touch up your makeup throughout the day by sweeping more powder over your face. This will help absorb any oil that accumulates on your skin which may cause the makeup to rub off easily.