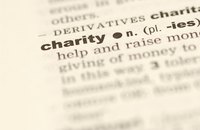 Charitable contributions are itemized on IRS Form 1040 on Schedule A. If your total itemized deductions are not greater than the standard deduction you are allowed to take to reduce your taxable income, you will generally not benefit from itemizing your charitable contributions. How do you itemize your charitable contributions if you have the appropriate documentation and find itemizing your deductions will be advantageous?
Use the fourth section of IRS Form 1040 Schedule A, known as Gifts to Charity. The total of all documented cash contributions should be entered on line 16. Cash contributions are now required to be documented with a bank record that supports the donation such as a cancelled check or a credit card receipt or a written statement from the charity that meets new tax law requirements initiated in 2007. Additionally, if the cash contribution is $250 or greater; a bank record is not sufficient proof. You must obtain a statement provided by the charity who received the donation. The total amount of your line 16 deduction should also include any mileage contribution calculated for miles driven for charitable purposes. This number is calculated by multiplying the number of miles by the annual allowable applicable mileage rate allowed for charitable purposes.
Put the total amount of your deduction for non-cash charitable contributions on line 17. Documentation is required. If your donation has a value over $500, you will also have to complete Form 8283 with some specific details regarding your non-cash contributions.
Complete Form 8283 if needed. Some of the information you will need includes the name and address of the recipient charity, a description of the donation, the type of property, the date of your donation, date you acquired the property, how you acquired the property, cost or adjusted basis, fair market value and the method used to value the property.
Retain all of your documentation for your charitable contributions with your copy of your tax return. This information is generally not required to be filed with the return, but you should keep it to substantiate your deduction if your return is selected for review by the IRS.
Complete your Schedule A by totaling all of the sub-total lines and placing the total amount of all deductions on line 29. Itemized deductions are sometimes limited based on other factors in the return so be sure to apply any limitations required by your specific tax data. Then put the total allowable amount of itemized deductions on the appropriate line of your Form 1040.