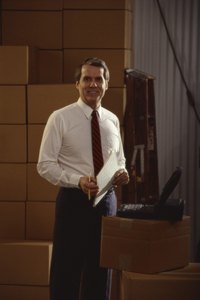 A mini storage is one of the last low-maintenance, low-overhead businesses. With common sense and some basic business and construction knowledge, you can build a mini storage that provides you with disposable income for years. Everyone has stuff and surprisingly more and more businesses are utilizing mini storages to store inventory. Actually, this is the perfect time to build a mini storage and make your dream of high income and low work a reality.
Locate the property. Mini storages are typically built close to a highway or on a main thoroughfare but this is not required. The property you choose needs to have great building potential and easy access. Choose any property large enough for building a mini storage that will contain enough units to create the income you desire. A phone book or Internet ad might cost you less than road frontage so consider all options when choosing property. Be sure to check zoning laws because you don't want a property where you cannot operate a mini storage.
Get financing. Just like a hotel, a mini storage will only be able to count on a certain occupancy percentage; thus, be sure to explore all available financing options. You may want to discuss a Small Business Administration loan with your banker and accountant. You should also consider private financing and construction loans you can refinance when the business is operational. Financing your mini storage with an eye on the bottom line will help you to see how profitable it can be.
Get a great construction contractor. If you have never been a construction foreman and are not licensed in your state, you do not want to act as general contractor for your mini storage. You will need to select a construction firm that has great contractors or does its own excavation, carpentry, electrical, plumbing and all the rest. It is a huge job to build a mini storage so you want to choose wisely and not cut costs.
Market the business. This is much easier for a mini storage than for many other businesses, since many would prefer storage than paying for additions or a pricey lease change or relocation. You just need to get the word out. You might also consider offering a free month with a two-year contract or some other opening promotion that will fill your units and quickly build the business.