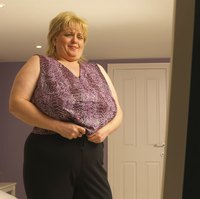 Looking thinner starts with your foundation garments and ends with your wardrobe choices. While you can't lose 10 lbs. in a moment, you can dress to look thinner, fooling the eye and supporting yourself properly. In addition, the way you carry yourself helps make you look thinner. These tips and tricks help you start a healthy path to feeling better and working toward a healthier lifestyle.
Start next to the skin. The right foundation garments help you look thinner and lift and support you in the right places. Get a bra fitting to ensure your cup size is appropriate and supportive to lift your bust. Wear undergarment that fit properly to avoid lines in the wrong places. Use support garments to tuck in your tummy or slim your thighs if wearing something fitted.
Dress your size. Many people want to hid their figures in baggy cloths, but what they don't realize is that those baggy jeans and large sweat shirts actually make them look heavier than they really are. Go for more form fitting clothes that flatter your body and you will look thinner instantly. However, clothes are too tight aren't flattering, either. Look in the mirror to see if your tops are too tight in the back or pants too tight in the crotch.
Wear a wrap dress in a pattern. Wrap dresses not only flatter a fuller figure, they also provide an elongated neckline, making you appear thinner. A print forces the eye to move, hiding any lumps or bumps.
Have proper posture to look thinner instantly. Slouching can not only make you look shorter, but also causes fat to bunch up around your middle. Stand up straight to maintain good alignment and a longer neck to look thinner.
Wear a structured jacket. A jacket that comes in at the waist and flares out over the hips makes your waist look smaller.