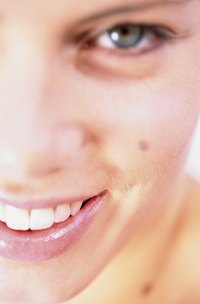 Many women wish they could wake up with perfect, natural makeup like actresses in movies have. Unfortunately, most women in real life could use a little help to look camera ready, or even ready for work. Just because you wear makeup, however, doesn't mean it needs to be obvious. Make your makeup look completely natural to let your inner beauty shine.
To get a natural, dewy complexion, skip the heavy foundation and powders. Instead, apply moisturizer and dab concealer under your eyes and on any blemishes, blending thoroughly. If you need additional coverage, opt for a tinted moisturizer.
Try cream instead of powder blush. It blends easily, giving you a natural glow, unlike powder blushes that can streak or look too heavy. Cream blush is available in sticks and pots. Simply glide along your cheekbone and blend upward toward your hair line.
If you need a little more color, apply bronzer with a large brush. A little goes a long way. Sweep the brush along your forehead, cheekbones and along the bridge of your nose -- all places where the sun would naturally kiss your skin.
Highlight your eyes. If you have pale skin, choose an eye shadow in a gold tone with subtle shimmer. If you have darker skin, opt for copper or cocoa. Apply a sheer layer along your lash line, blending into the crease of your eye. This will create a little depth but it won't be obvious you are wearing eye shadow. Finish with a coat or two of brown or black mascara, depending on your natural lash color.
Finish your natural makeup look with a little lip gloss. The goal is for your lips to look moisturized, not made up. Keep it simple and go with clear gloss, or if you want a hint of color try a gloss with a tint of pink or champagne.