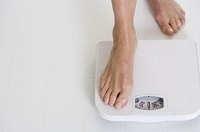 Losing weight can be difficult, so why can a contestant on The Biggest Loser lose over twenty pounds in a week? The answer is hard work plus math.
First, cut out all processed foods from your diet. For a weight loss plan that will help you lose weight fast, you need to eat only fresh, natural foods. Processed foods contain unhealthy amounts of transfats, sodium, and sugar that you don't find in natural foods.
Don't skip meals. In fact, eat six mini meals per day. Eating small meals throughout the day will keep your energy, blood sugar levels, and metabolism at optimum levels. Allowing more than three hours to pass between your meals will make you feel sluggish, weak, and famished, and this often results in you reaching for high sugar foods with empty calories, in an attempt to boost your energy and mood. Instead, munch on lean protein, fruits, and vegetables all day.
With your doctor's approval, begin a strict and strenuous exercise program. You need to have a deficit of 3500 calories to burn a pound of body fat. If you decrease your normal calorie intake by 1,500 calories each day, you will still need to burn an additional 2,000 calories to burn a pound of body fat each day. This sounds difficult, but the contestants on The Biggest Loser have proven that it's not impossible.
In order to do this, you will need to remain active several hours a day, every day. This means no sitting on the couch to watch tv (if you must watch tv, do it while lifting weights or using a treadmill or elliptical).
Don't push yourself too hard. Pushing yourself too hard could lead to injury or adrenal fatigue, which would most likely result in weight gain instead of weight loss.
It has been shown that walking burns as many calories as running, so if you're not able to run yet, don't push yourself to do so. Just walk several hours a day in order to lose the weight fast.