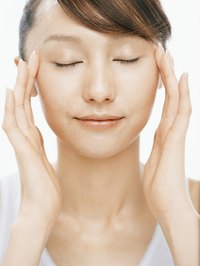 Sometimes we're too tired and run down to worry about applying cosmetics and expensive products, and sometimes we simply can't afford them. Fortunately there are some cost-effective, natural and easy ways to give your body, face and hair a boost of health and beauty.
Things You'll Need
Bottles of water
Fruit; natural yogurt
Moisturizer; Aloe Vera creams; olive oil; lemon
Tea spoons; used tea bags
Vaseline
Conditioner
Take Care Of Your Body
Get more sleep. Going to bed an hour or two earlier will do wonders for your skin, hair and overall health. Sleep allows your body to rest and rejuvenate.
Drink plenty of water. Keep your body hydrated and your mind healthy by drinking lots of water throughout the day. It will help clear up your skin, revitalize your hair and flush out the toxins in your body.
Eat a better diet. Consider adding plenty of organic foods, fruits and vegetables to your diet. A healthy diet leads to a healthy body and glowing skin.
Exfoliate all over your body to achieve smooth, fresh skin.
Put Life Back Into Your Face
Apply a fruit-based face pack. You can make your own by mashing up some fruit--avocado is good for this--with some natural yogurt, then refrigerating for 30 minutes. Apply generously to your face then lie back and enjoy its benefits. Your face will appreciate the vitamins in the face pack and your skin will glow with a healthy radiance.
Moisturize. Your skin needs help to stay soft and smooth--pollution and the weather are just two things that will constantly attempt to dry it out and make it appear dull and tired. Creams with an aloe vera base will work wonders toward keeping your skin healthy. Olive oil is a quick way to soften dry, troubled skin, and a few drops of lemon on your face will help clear up spots and blemishes.
Freshen up the skin around your eyes. If you suffer with bags or dark circles around the eyes, or if your eyes feel tired and dry, put two tea spoons in the freezer for a minute then press the spoons gently against your eyes. The sudden chill will wake up the skin and soothe any sore spots. Alternatively, you can place pieces of cucumber or cold, used tea bags on your eyes for a few minutes--this will help reduce any swelling and red areas.
Soften your lips. Licking dry, cracked lips will only dry them out more--use Vaseline for a quick, healthy shine and apply frequently to speed up the healing.
Give Your Hair A Boost
Give your hair a week off from the hairdryer, straighteners and tongs. The daily application of heat can make hair dry, damaged and brittle. Give your hair some time to recover and rest.
Condition your hair. Blast hair with cold water for three seconds after conditioning to lock in the nutrients. Using a leave-in conditioner after washing will give long-lasting shine.
Trim off the split ends. Getting rid of dead split ends will give your hair a healthy boost and fresh hair will grow quicker.