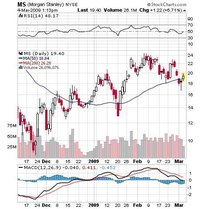 "Technical analysis" is an umbrella term for numerous techniques used for interpreting the performance of a stock and making predictions. No single chart reading technique works 100 percent of the time, so chartists learn as many as possible and look for areas where many indications corroborate their expectations. The information can then be used to make high-probability trades with minimal risk.
Use indicators. In addition to the price of a stock over a given time period, most charts include data on volume and price moving averages as well as various meta-indicators that help interpret this data. The Relative Strength Indicator and Moving Average Convergence/Divergence oscillator are common indicators that most chartists use to confirm the strength of a trend.
Identify support and resistance. Some of the most useful information to a trader or investor is support and resistance levels. These are the price at which a stock has tendencies to be widely bought and sold. Often, price will react predictably at these levels, consistent with past performance. If these levels are broken by prices moving beyond them, however, they are still useful as confirmation of a major change in behavior.
Look for trend lines. Trends are what most investors and traders want to spot. By connecting tops or bottoms, chartists can draw a trend line and evaluate whether it's used as support or resistance in continuation of the trend.
Count wave patterns. Elliott wave counting is a complex and highly specialized chart-reading technique that can make powerful predictions about a stock based on the relative size and duration of price movements.
Read candlesticks. One of the oldest chart-reading techniques is the interpretation of candlesticks. Most have Japanese names because the technique was invented by rice traders in Japan. The relative shape and size of a candlestick's body and wick and its shape in relation to the candlesticks adjacent to it are widely believed to have predictive value.