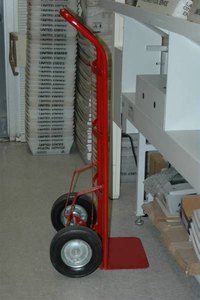 Because people are too busy spending their lives working, playing golf, or toting their children around to various activities, there is always a market to establish a delivery service. The ability to have a dependable person who is able to follow through and deliver the goods is always a plus, and even in a bad economy, people are willing to pay extra to streamline their lives, and not have to make a few extra trips weekly.
Things You'll Need
Cell phone with email capability
Establish the parameters of your business. This includes what geographical area you're planning to service, the types of items you plan on delivering (prescriptions, dry cleaning, groceries, miscellaneous items) and what days and hours you plan on operating. Also you have to determine your pricing structure, whether you charge a flat rate for deliveries or charge by time, mileage or extra effort (doing the grocery shopping for someone, for example).

Have a reliable vehicle that can withstand the punishment of stop and go travel, is hearty enough to brave bad weather and is economical enough to not drain your profit.
Promote your business, based on what you plan on delivering. If you're going the general delivery route, align yourself with the types the businesses that depend on good partners: pharmacies, dry cleaners, grocery stores, liquor stores and take-out restaurants. Use direct mail to get the word out, and target your demographic, whether it's the elderly, working parents or simply people with money that can't be bothered with the minutia of daily life.

Make yourself available at all times. This means having a cell phone, preferably one with email capability, so you're always reachable.

Tweak your business model to be more effective, once you've started to establish yourself. That could mean getting into a daily routine by planning a schedule (pharmacy, dry cleaner and grocery store) or a schedule based on geography (north side of town on Monday/Wednesday/Friday and south side (Tuesday/Thursday), for example.

Have a backup plan available for any situations. This means having the ability to procure a vehicle on a moment's notice, a backup worker (or two) in case things get crazy, or if you suddenly get sick.