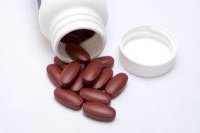 Red yeast rice is a dietary supplement produced from a type of yeast that grows on rice. The National Institutes of Health (NIH) gives red yeast rice an "A" grade for treating high cholesterol, meaning that there is strong scientific evidence to support the notion that it can lower cholesterol. Red yeast rice contains monacolins, which are thought to play a role in its cholesterol-lowering abilities. Red yeast rice is widely available as a nutritional supplement and is also an ingredient in several prescription cholesterol medications.
Talk to your doctor first if you plan to take an over-the-counter nutritional supplement containing red yeast rice. The FDA does not regulate dietary supplements, so some products may not live up to their claims or may interact with other medications you are taking.
Do not take red yeast rice supplements if you are under the age of 18. Use of red yeast rice has only been extensively studied in adults over the age of 18, according to the NIH. In addition, do not use these supplements if you are pregnant, are breastfeeding or have liver disease. Do not use over-the-counter red yeast rice supplements if you are already taking a prescription cholesterol medication containing this ingredient.
Take one 1,200 mg red yeast supplement twice daily, as articulated in the NIH guidelines. Swallow the pill whole with a large glass of water. It's best to take your supplement with a meal. Some supplements may contain more or less red yeast extract, but do not exceed 2,400 mg per day unless specifically instructed to do so by your doctor.
Continue taking your red yeast supplements until your cholesterol lowers or your doctor tells you to stop.
Report any side effects to your doctor. The NIH has found that red yeast rice may cause headaches, abdominal pain and frequent heartburn, gas or bloating. Red yeast may also increase your risk of bleeding, so it should not be used by people taking other medications that increase bleeding risk.