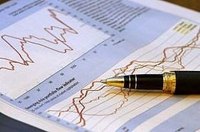 Investing in Fidelity funds could be a great financial decision to make. Whether you want to earn money through mutual funds, start a retirement account, or invest in stocks, Fidelity has a number of financial products that might work for your needs. Despite Fidelity's track record and good reputation, it is important to remember it is like any other company dealing with investments in which there are no guarantees of success. However, Fidelity funds are some of the easiest to access for both beginning and advanced investors.
Visit Fidelity.com and sign up for an account to start investing in Fidelity funds. You will be required to provide personal information such as your full name, address, date of birth, Social Security Number. In addition, loading Fidelity funds requires a verified checking or savings account.
Start reading up on Fidelity funds before investing. Smart Money magazine recently named the mutual fund Fidelity Contrafund number one out of 100 best time-tested funds. Other noteworthy Fidelity funds included that are still open to new investors are Fidelity Capital Appreciation (#78) and Fidelity Puritan (#80.) Forbes is another great research source on any investment transaction.
You may want to read some basic investing books (see Resources section) before buying any Fidelity funds. This may help an ambivalent investor set both short and long-term financial goals, since Fidelity offers everything from basic stocks to retirement accounts and annuities.
Consider setting up an automated investment plan for Fidelity funds. This is especially useful if you do not have a large chunk of upfront money to invest but still want to work toward a better financial future.