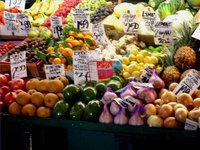 Certainly no one can relate to the pinch of tough economic times as much as small businesses. It's not just a matter of getting existing customers to keep coming back but also enticing new customers to come through the door in the first place and give their products and services a try. If you're someone who loves a bargain, you probably have a good idea of what kind of coupons attract your attention. Starting a monthly coupon magazine is not only a great way to help local businesses but also to put some money in your own pocket. Here's how to get started.
Things You'll Need
Computer
Website
Clip art
Business license
Filing fees
Mailing lists
Bulk mailing license
Study the various circulars, fliers and sales newsletters you receive in the mail. This will give you some ideas about layout, color schemes and the use of graphics and photographs to draw attention to merchandise.
Research your competition. If you live in a small town, for instance, you may be the first person who has thought of doing something like this to help stimulate your local economy. In a larger community, there may be formal franchise operations (i.e., monthlycoupons.net) already in place that are publishing money-saving coupon books. If so, you'll need to identify elements that will make your own publication stand out. As an example, your mailings to households may consist of nothing more than an eye-catching postcard that directs customers to a website where they can click on and print out the coupons they want to use.
Prepare a mock-up of what your coupon magazine will look like. Whether it's going to be a hard copy mailer or a website, there's an abundance of free clip art available on the Internet (see URLs) that can let you put together an imaginative, easy-to-navigate sample. Eschew clutter! Strive for as much white space on each page as possible. Proofread your sample carefully and make it look professional. This is going to be your initial sales tool to attract merchants to the program. If it looks cheesy and homemade, they're going to think they could do a better job making a coupon book themselves.
Test your mock-up magazine on friends and family members. Solicit their suggestions on how to make it better.
Survey local merchants regarding their interest in participating in your magazine. Show them the mock-up of your coupon magazine and provide a fee schedule that gives them a discount if they advertise for three or more months. Take a quick look at Step 10; if you have a rough idea of how many households your magazine will realistically be reaching, this could be an enticing incentive for them to hop on board.
Get a business license and establish your company as an official, taxpaying entity. The website of the Small Business Administration (www.sba.gov) will not only walk you through the necessary steps of getting a license but also provides wonderful tips on how to make a small business run smoothly. To register your company name with the Secretary of State's Office, go to the official government website of the state in which you live and click on "Secretary of State."
Set up a checking account or an account through PayPal (www.paypal.com) for processing payments.
Comparison shop when it comes to printing facilities in order to find the one that will best fit your needs.
Check with the U.S. Post Office on size regulations and mailing costs. Get a bulk mailing rate if you're going to be mailing everything yourself each month.
Purchase mailing lists to start distributing your coupon magazine. Websites such as Melissa Data (see URL) will give you an idea of the cost to do this based on the number of households you want to reach and the frequency of contact. Comparison shop before you make a decision since there are plenty of these services on the Internet.
Join your city's Chamber of Commerce and other civic organizations that interest you. This is a great chance to network with business owners and tell them about your magazine.