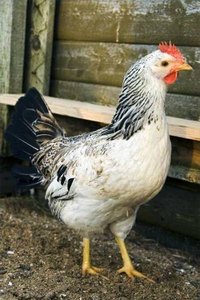 Building an electric fence is a great way to protect a chicken coop from predators. Electric fences are convenient because they come without the cost and labor of installing a permanent fence. Most chickens are either raised for meat or eggs and live in poultry coops or sheds that have mesh doors and windows for ventilation. To prevent predators from getting into the shed, an electric fence around the building is a perfect plan for chicken protection.
Things You'll Need
Pliers
Roll of high-tensile wire
4 3-foot steel hot wire rods
Screw-on plastic insulators
Hammer
12-volt battery
High-voltage, low-impedance, short-pulse fence charger (AC plug-in type preferred, but battery operated and solar models are fine)
Hammer in four steel hot wire rod posts (about 6 inches into the ground) around the perimeter of the shed forming a square/rectangle 3 feet larger than the sheds perimeter.
Screw plastic insulators onto the steel rods. Adjust the wire height in accordance to the size of the predator you are preventing from entering the chicken coop area (usually have the insulators 4 to 8 inches off the ground).
Unroll a piece of wire that is about a foot longer than what the total distance between all the steel rods are. Cut the wire from the roll. Wrap the wire tightly several times around the front hooks of an insulator on a steel rod. Pull the wire tightly to the next corner steel rod and wrap it tightly several times around the front hooks of the insulator. Continue around until the perimeter is enclosed with wire.
Install the voltage. You'll install the fence charger at the corner of the enclosed area that is either closest to a power outlet or is the easiest to access. There are AC plug-in (plug into a standard 110V outlet), battery (hook up to a 12V battery), and solar (allow to charge in the sun for a day before use) power operated types of fence chargers; each has its benefits and operates equally well with proper maintenance. Attach the fence charger's ground wire to an extra rod that you will hammer into the ground. Attach the fence charger's hot wire to the fence that you are going to electrically charge by wrapping the wire around it for a solid connection. Turn on your fence charger.
Use a battery-operated fence charger. Clamp the black cable from the battery-operated fence charger to the negative post of your 12 V battery, then clamp the red cable from the battery-operated fence charger to the positive post of the 12 V battery.