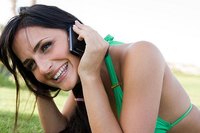 Thanks to a new free 411 service; I have been able to save money on my phone bill over the last few months. Directory assistance is such a valuable service for finding phone numbers in a pinch; however, if you just dial 411, directory assistance services could charge you up to $2 per call. A relatively new phone number locator has just come on the scene that offers absolutely free 411 service.
Google created a free 411 service that is paid for by business advertisers instead of phone company customers like you and me. In order to use the free 411 service, you simply need to dial 1-800-GOOG-411 from your cell phone. Click on the link below to see a video that Google made to introduce their new toll free directory assistance service.

Google's free 411 service asks you for the city and state, and the name of the listing that you are looking for. The directory assistance service is an automated system that is remarkably good at voice recognition. You simply speak the answers to the questions, and Google's computers figure out what you said.
Finally, Google's free 411 service will tell you the number that you are looking for. If you are calling from a cell phone, you will also have the option to say "text message" or "map it," which will prompt Google to send you a text message with the number or a map to the location.