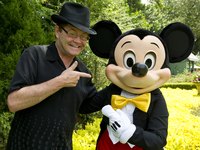 Many families dream of a Walt Disney World vacation, but few first-timers realize exactly how expensive that trip can be. Everything costs more in Disney World, from bottles of water to simply parking your car for the day. When it comes to savings, every little bit helps on a Disney vacation, and parking is $14 a day for a regular family car in 2012. Luckily, Walt Disney World offers very convenient free transportation between many of the points within the park property. Take advantage of some free parking tricks to save enough money to buy Mickey Mouse ears for the whole family by the end of the week.
Have breakfast at the Polynesian, Contemporary or Grand Floridian resort first thing in the morning. If you dine at any of the restaurants in these resorts, you can park there for free. After breakfast, hop on the free monorail from any one of the resort lobbies. You can take the monorail directly to the Magic Kingdom or, if your plans are for one of the other parks, to the Transportation and Ticket Center where you can catch a monorail to Epcot or a bus to Animal Kingdom or Hollywood Studios.
Spend the day enjoying the water fun at Typhoon Lagoon or Blizzard Beach, Walt Disney World's two water parks. Parking is free at both of these parks. If you'd rather not spend the entire day splashing around, simply park your car there and catch one of the many free buses that go to the Transportation and Ticket Center. Catch another bus or monorail to your ultimate destination from there.
Spend some time shopping in Downtown Disney or make reservations for dinner at one of the park's signature restaurants. Park for free outside the Downtown Disney area and catch a bus to the Transportation and Ticket Center. Buses run about every 15 minutes during the day, and every half hour in the evening. Like the other methods of free parking in Walt Disney World, there is a trade-off of time for money here. It takes longer to ride multiple buses and monorails to get where you're going. But the loss of an hour a day can be worth it if you're trying to treat your family to a wonderful vacation on a limited budget.