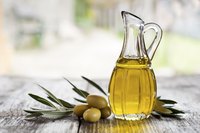 There's nothing wrong with getting a little fat in your diet, especially from a drizzle of olive oil. Rich in monounsaturated fats, olive oil may actually help lower cholesterol, insulin and blood sugar levels. And, when used in place of saturated fats such as butter, it may improve your overall health. There are a number of ways that you can add this healthy fat to your diet to get the benefits.
A Word About Portion
While olive oil certainly makes a healthy choice when it comes to fat, it's still a concentrated source of calories. One tablespoon of olive oil has 119 calories. Consuming more calories than you need, even healthy calories, can lead to weight gain. To get the benefits without the weight gain, be mindful of the amount of olive oil you use, and track your overall intake to help stay in calorie balance.
For Sautes and Salads
Instead of your usual cooking oil, use olive oil in vegetable and lean meat sautes. It also makes a healthy addition to any vegetable or grain salad. The oil not only enhances the flavor of your food but also the nutritional quality. The fat in the oil helps you absorb the fat-soluble vitamins in the food you're eating, including vitamins A, D, E and K, as well as carotenoids such as beta-carotene.
Better Than Butter
Replace your butter dish, or stick margarine, with a bowl of olive oil, and use it as a dip for crusty bread or raw veggies. This not only helps increase your intake of unsaturated fats but also helps decrease your intake of saturated fats. Plus, you get additional nutritional benefits in olive oil that you don't get from butter.
Olive oil is a natural source of vitamin E, an antioxidant that may assist in the prevention of chronic illness by protecting your body from damaging free radicals. To get the most nutritional benefits, the Better Health Channel recommends you use extra virgin or virgin olive oils. These types of oils undergo the least amount of processing and retain most of their nutritional value.
Baked Goods
You may think of olive oil as more of a savory food oil, but you can use it in baked goods too. Try it in muffins, quick bread, cookies or brownies. It may alter the flavor a bit, so consider replacing half of the fat in the recipe with olive oil to start and making adjustments as needed. You may also consider using a light olive oil. While a lighter olive oil may have less of an effect on the taste of your food, however, you may not get as many of the benefits.