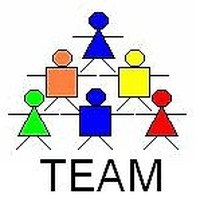 Business teams are used in high performance organizations. The easiest choice for starting teams is to do it with existing work groups. Although team-building and training needs may be similar for all teams, the scope of the team work may be different.
Work teams are easy to implement since group does similar work and may already know each other. They are natural and permanent teams where members are in the same department and typically do the same type of work or have interdependent jobs. These teams are sometimes called Cell Teams since they work in the same area and form a nucleus through membership. This greater understanding of joint work promotes new suggestions and idea sharing among the team members.
The work team should be given goals and objectives to accomplish. Also set their boundaries of how much decision-making power they have and when they must consult management. This results in increased employee involvement and high levels of horizontal and vertical communication to better resolve issues and service customers.
Team suggested improvements in efficiency and productivity can be made easily. Quick process changes, effective problem solving, and fast procedure updates are possible with work teams.
Employee development becomes easier as well since every team member increases skills, knowledge, and capabilities through team work. Joint problem-solving, team decision making, and potential for flexibility with cross-training and role rotation are also pluses of this type of team.