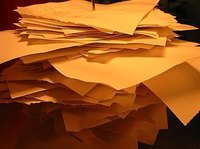 Paying Bills takes Longer than I Thought. Do the words: ' pay bill on line ' seem confusing to you? Maybe you don't know how to automatically pay bills online yet, but you can learn an easy and free way to do so. I automatically pay my bills online and save an average of $17 a month while using a free online bill pay program.
Gather your Bill information. I took about a month and a half and gathered all of my bill information on a sheet of paper. It's easy to do. Just collect your mail everyday like usual. If a bill comes, mark down the information on your bill sheet. The information you will want to collect should include your Biller's name, phone number and website, due date, amount due, and the billing schedule (weekly, monthly, quarterly, yearly, etc.) The sheet doesn't have to be anything fancy.

After you pay your bills, collect all of your bill statements for that month and a half in their original envelopes and keep them together with a rubber band or put them in a shoebox. This may end up being the last envelope bills you will need to open. You will keep these envelope bills as your hardcopy backup should you need them in the future once your automated system is working.
How to set up automatic payments for your bills. For all bills on your list, contact your Biller, and tell them you want to set up automatic payment on your account. Usually, they will ask you to mail them one of your checks with "Void" written on it to get the automatic payment set up. Once you fulfill their requirements, your bill will automatically be paid each month directly from your bank checking account. You will do this for every bill on your list.
Choosing Your Checking Account Before deciding which checking account to use to make your automatic payments, you may want to check out Step 3. It will be convenient for you to have all of your bills paid automatically from one single checking account. If you have bills for your personal business or rental property, etc., you may want to use a separate checking account for that if you wish. It will take a little bit of effort to set up the automatic payment with each Biller initially, but it will be well worth it after you realize how much time, money, and effort it will save you in the long run.
How to set up Automatic Bill Payer with your Bank. While setting up automatic payments for all of your bills, you might find that some of your Billers do not give the option of automatic payments. For example, I use a small "ma and pa" pool service company that doesn't offer an automatic payment option. In this case, you will set up an Automatic Bill Payer system with your bank.
Online Bill Pay Programs Chances are, your bank has an online website which offers an automatic bill pay function. If it doesn't, simply find one that already does and open a new account. Don't sweat it, with the internet, it is much easier than ever to open up a new bank account. Bank of America has an easy to use online bill pay program. When you sign up for a free checking account at Bank of America, you can receive $25 deposited into your new account just for signing up. Washington Mutual, and Fifth Third Bank have a bill pay programs as well. If you need to open up a new checking account, it's a good idea to open up a new account at a bank that is also physically located around your home.
After your checking account is set up, enter the Bill Pay function, and begin to enter the remaining Biller's information from your list that you weren't able to set up an automatic bill pay with.