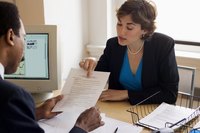 Developing and using a standard format for progress reporting will help you focus on what is important to management. This keeps you from wasting your time reporting day-to-day activities or incidentals and from wasting management's time learning about routine activities. It does not matter whether the progress is in written form or provided as part of a meeting; understanding what should be in a progress report will force you to focus on what is most important to the business.
Be sure to report any job-related statistics or status metrics, if you are being measured against a performance goal. This is numerical data that management may wish to know upon occasion but can skim over when in a hurry. If you are an individual contributor, this will be personal and job-related goals. If you are reporting as team leaders or lower level managers, this could be based on group, department or project goals.
Highlight any major accomplishments or high-priority projects. Management may choose to put a limit as to how many line items or projects the progress report can include. This helps you focus only on high-priority items.
Describe issues, barriers or problems encountered along with possible alternatives or solutions you might like to implement. This helps management understand anything that might affect your ability to do the best job or potential causes for team problems or project slippage. Remember, management likes to know what is going on but prefers that you give ideas, not merely document complaints.
Explain how management can help in the situation or with the barrier you are encountering, if you feel you or your team is stymied. If you don't let management know you need help, they will assume you can handle the problem. Recognize that management may choose to coach you for future situations or take direct action themselves.