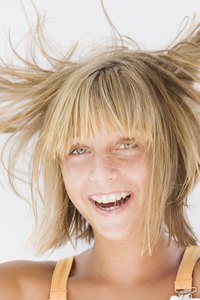 Static cling can be scary. It can make your hair look like it is sticking up on its own. The static is worse in dry, cold air, which is why this happens more in the winter. You may need to change how you care for your hair to stop the static cling.
Things You'll Need
Dryer sheets
Natural bristle brush
Use a negative ion hair dryer and a natural-bristle brush. The ion hair dryers are supposed to break down the water molecules in wet hair and therefore produce less static. A synthetic-bristled brush can generate static; a natural-bristle brush will not. You can also use a wide-tooth comb instead of either brush.
Wash your hair with a silicone-based shampoo instead of an alcohol-based product. The alcohol-based shampoo tends to dry out your hair, which leads to more static.
Run a fabric softener dryer sheet lightly over the flyaways and watch them fall back into place.