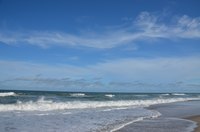 Driving on the beach on North Carolina's Outer Banks is a time-honored pastime. It's permitted in most places unless signs indicate your vehicle is not welcome on a particular stretch of public beach. Pack your surfboard, kayak and a picnic and head to the 2-mile-long undeveloped north end of Carolina Beach.
At Carolina Beach
Freeman Park in Carolina Beach draws off-road vehicle enthusiasts to its wide open spaces. Purchase a day pass, available at the entrance to the park, or a yearly pass, available from several retail locations or from the Carolina Beach Parking Office, Town Hall or Recreation Center. Camping and campfires are allowed on the beach, but you must use designated fire pits and camp more than 25 feet from dunes and vegetation. Watch for sunbathers and fishing lines, and remember that pedestrians always have the right-of-way.
Beach Driving Do's and Don'ts
A four-wheel-drive vehicle is required. Reduce the air pressure in your tires to a range between 20 to 25 pounds for better traction, and remember to re-inflate them after you leave. With the 15-mph speed limit in mind, it's also important to try to keep a steady speed to avoid getting stuck. The best place to drive is just below the high tide mark, but don't drive over the dunes or vegetation. Carry a shovel, jack and jack support. Remove all your trash, and have your car washed as soon as possible after leaving the beach, since saltwater is highly corrosive.