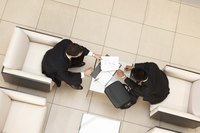 A workers' compensation, or workers' comp, audit is a mandatory, time-sensitive process that need not be too difficult if you know how to prepare. The purpose of a workers' comp audit is for your business' insurance carrier to adjust your workers' comp premium based on how closely your estimates for the payroll at the start of the workers' comp period adequately reflect the payroll by the end of the workers' comp period. Your best payroll estimate for the coming period determines your initial policy premium while the workers' comp audit determines the actual premium.
Things You'll Need
Payroll records
Employee records
Cash disbursement records
Certificates of insurance
Organize all of your payroll records. These records include the payroll journal and summary, Federal employee tax forms for the workers' comp period, state unemployment reports, individual earnings records, and overtime payments. Separate overtime pay from the pay an employee receives during normal working hours and summarize the overtime pay by job classification as you have listed them on your payroll records. Workers Compensation Shop (workerscompensationshop.com) recommends not giving the auditor your checkbook as a record of payroll unless it is the only method you use to keep records.
Arrange your employee records, which should include detailed explanations of each employee's duties, the amount of time worked during the workers' comp period, and the number of employees in your business, according to Workers Compensation Consultant (workerscompensationconsultant.com).
Gather records of cash disbursements that specify payments for subcontractors, cost of materials, and labor.
Prepare certificates of insurance for all independent contractors and subcontractors. Certificates of insurance must cover the period during which the independent contractors and subcontractors worked for you.
Expedite the audit process by giving the auditor only the business records he requests from you and be prepared to answer basic questions about your business and records.
Sign only a complete Final Audit Statement from the insurance carrier and request a copy for your records. The Final Audit Statement shows your new premium, as well as any additional premiums you may owe, and the amount of credit you may receive because of the payroll adjustment, according to Workers Compensation Consultants.