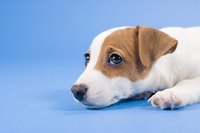 Puppies do not gain full bladder and bowel control until at least 4 months of age. Some puppies take a bit longer to develop full control, just as some children do. House training a puppy can take patience and understanding. You must establish a routine and stick to it for the dog to learn what to do.
Choose a safe place where you want the puppy to relieve itself. The site must be a place where the dog feels at ease when you are not able to supervise her. This can be a spot outside, or a crate large enough for the dog to stand, turn around, and lie down comfortably.
Watch the dog early in the process. Do not let him out of the crate until he's done his business.
Pick up the puppy if you see her starting to have an accident somewhere other than the designated site. Take her to that site quickly and calmly, but do not yell or punish the dog. Doing so can damage the bond you are trying to form with her and make her distrustful of you. When the dog does its business where it's supposed to, give her a treat.
Take the puppy to her designated relief area every one or two hours in the early stages of house training. Praise or reward her when she does what she's supposed to do in the right place.
Feed the puppy a high-quality growth formula puppy food at least three times daily. A good diet will ensure his stools are well formed and consistent and will help avoid accidents caused by an "upset stomach." Feed the dog at the same time each day to help develop a routine. This will make it easier for you to determine when he needs to go this relief area.