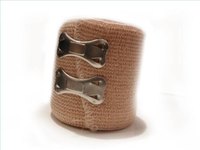 The quads, or the quadriceps femoris muscles, are the four muscles that make up the front of the thighs. The quadriceps consist of the rectus femoris, which covers the other three muscles that make up the quadriceps; the vastus medialis, on the inside part of the thigh; the vastus intermedius, on the front of the thigh; and the vastus laterus, on the outside part of the thigh. No matter which quad muscle you injure, you may experience an extreme amount of pain. It can take weeks or even months to completely recover from a quad injury, but complete rehabilitation is possible, especially after a minor strain or sprain.
Things You'll Need
Heating gel like Tiger Balm
Ace bandage
Crutches
Ice pack
Heat pack
Aspirin
Alternate an ice pack with a heat pack every 15 minutes to reduce swelling. If possible, keep your leg straight and elevated at all times.
Use crutches if you can't walk on your leg. If you are unable to apply pressure on your leg, wrap it firmly but not too tightly in an ace bandage. If possible, remove the ace bandage throughout the day and continue to apply ice and heat to your sore muscles.
If you are having trouble sleeping, rub a heat lotion like Tiger Balm on your pulled muscle and take an aspirin to relieve pain.
Do not rush walking on your injured leg immediately. Even as the pain in your pulled muscle subsides, do gentle exercises like forward lunges to limber up your pulled muscle. Do not attempt this exercise if you are still having trouble walking. Stand with your injured leg behind you and press your heel against the floor as you bring your other leg directly in front of you, lunging forward. Stay in this position as long as you feel a comfortable stretch, but stop if you experience pain. Repeat 10 times.
Increase your stretching as your muscles become stronger. Stand with your legs shoulder-width apart. Gently bend your knees and do a shallow squat, making sure your knees do not stretch over your toes. Repeat until your muscles feel limber.