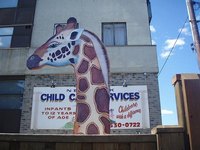 Make a childcare brochure that effectively advertises your business as the best choice for parents and children. Include the sections listed below in your childcare brochure to convince potential customers that your business is professional, capable and trustworthy. A well-planned and produced brochure provides an important tool for sending business your way.
Things You'll Need
Use Microsoft Word, already installed on most computers, as a fast and easy option to make a professional-looking childcare brochure. Open a new document and from the task pane at the right click on Template, then click On my computer. Choose the Publications tab and then choose Brochure. A two-page, tri-fold template with information and tips for personalizing the brochure opens. Simply type your text and insert your graphics in place of the ones in the six sections of the template.
Make a childcare brochure cover that catches the eye of potential customers. Find the cover on the template in the far right column of page one. If your childcare business does not already have a name, provide a professional, trustworthy name for it. Place the name of your business at the top of the brochure cover in an interesting but clear font. Beneath it, insert a child-friendly, colorful or bold black and white graphic. Underneath the graphic, provide a catch phrase or saying that sums up your childcare business philosophy. For example, Caring for Your Child the Way You Would.
On another part of your childcare brochure, provide a paragraph or two that tells potential customers about you. This portion convinces customers why they should trust their child to you rather than someone else. In these few brief paragraphs, introduce yourself, provide your childcare background and education or certifications and briefly state your philosophy of caring for children. Provide a picture of you or your employees happily working with children for added persuasion.
Another section of the childcare brochure you make should clearly state your rates. Be sure to include basic weekly, monthly, full-time and part- time rates. Also include any discounts you offer, such as multiple children in a family or two weeks free from pay each year for vacations. Decide and clearly detail the way that you expect to be paid. Include the how, such as cash or check, as well as the when, such as payments required a week in advance or taken only certain times of day.
When making a childcare brochure, be sure to leave a spot for references and customer compliments. References should list the names of satisfied customers people can contact for added assurance about the quality of care you provide. A compliments section might list awards and certifications your business has received as well as satisfied customer quotes that you have permission to use.
Use the last section of the childcare brochure you make for listing all contact information. In this section, include your full names as owners, the physical address, mailing address, phone numbers and email if available. Include your business hours as well as any website you may have.
Save your brochure as a template once complete. As a template, your brochure can serve your business needs as it grows and changes. Make changes easily within a template or use it to create related brochures for your business should you have special events such as summer camps. Print the brochure so that it prints on both sides of the paper. Check your printer orientations for dual side printing before printing a large number of brochures so that your brochure prints correctly.