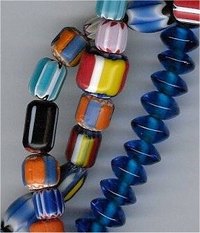 Bead jewelry crafts are more popular than ever, and as a result so are bead stores. Small, independently owned shops offer the devoted bead hobbyist the chance to shop for affordable but remarkable and unique materials for their next project. If you think this retail niche might be right for you, here's a basic rundown of what it takes to get started.
Visit existing bead stores and make observations. Notice how the store is laid out, how beads and tools are arranged for the customers to see and what range of prices various items are going for. Think of ways you might be able to improve certain industry standards and habits.
Research the necessary legal requirements for starting a small business in your area, such as licensing, zoning requirements and employee rules. Check out business.gov for more information about these procedures and how to get started with the legalities of a small business.
Obtain space for your store through buying or renting. Bead stores require little space, but that space should include lots of counter surface area and/or room for tables on which to display your inventory. Bead stores tend to be located in areas with heavy foot traffic, such as malls and downtown shopping areas.
Choose bead merchandise inventory. Consider variety and the need to have both interesting, unique beads as well as standard or utilitarian beads (such as spacers or seed beeds). Search the catalogs of as many bead wholesalers as possible (see Resources) to compare prices and selection. Also, consider selling handmade beads from sources such as fair-trade suppliers or by purchasing directly from individual crafters. If you like, you can also join in on the vintage bead market by keeping an eye out for old costume jewelry at places like rummage sales and thrift stores.
Select additional merchandise inventory. In addition to beads and charms, most bead stores sell beading accessories such as needles, looms, cord and wire, scissors, clasps, glue, earring fixtures and wire shaping tools. The more you can turn your store into a one-stop bead hobbyist's shop, the more satisfied your customers will be, and the more they'll keep coming back.
Choose a display system for your merchandise. If you are selling your beads individually, you will want to display them using a system that allows customers to browse and handle individual beads, such as a series of shallow dishes.
Set prices. Use suggested retail prices where applicable, and otherwise set prices according to what's competitive with other sellers. You may also consider leaving some space to sell items on consignment if you know any local beadmakers who are looking to sell.
Keep your customers creatively stimulated and interested in expanding their hobby. Many bead stores sell beading books and magazines, have craft class nights, and display and sell large, premade products that demonstrate what customers can do with the products in the store.