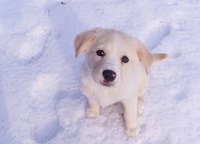 Dogs tend to jump up on people because they want to be on our level. They want to meet us eye to eye. Dogs need to be trained to not jump up on people because it is inappropriate, bad behavior and potentially dangerous. This behavior is quite easy to train, you just have to know how to do it.
Do not make eye contact with your dog when she jumps up on you. Look away and turn your back on her. This physical reaction lets her see that she does not get a good reaction from you when she jumps. Matter of fact, it is a neutral reaction. It is not positive or negative. Tell your dog to sit. When your dog obeys your command, offer a treat. You want to get your dog to stop jumping up and simply greet you from her level.
Walk away from your dog slowly when she jumps up. She can't jump on you if you are walking away. If this doesn't work by itself you can toss some treats on the floor to show the fog that staying on all fours is way better than jumping on you. Rather than walking away you can stand completely still. Show no reaction whatsoever to your dog jumping on you. Do not move, make any noise or make any expression. Show nothing. This will discourage the behavior.
Change the way your dog greets people, not just yourself. When people come over to visit they do not want your dog jumping on them. Get someone willing to help you train your dog not to jump. Have treats ready in your hand and have your friend go outside, wait a minute and then ring the doorbell. Make your dog is sit calmly before answering the door. Allow your friend to come in while you make sure your dog stays put with treats. You could also ask visitors to bring dog toys or treats to help calm the dog down.