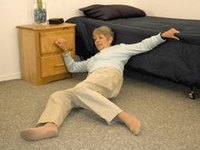 Operating a long-term-care facility is both rewarding and time-consuming. In addition, it is important to be very careful with your record-keeping and documenting, especially when it comes to any medical care the residents are receiving, or any injuries or sicknesses that might occur. Falls in particular are common among the elderly, and should be carefully documented when they occur.
Create a document to record the details of every fall. This document should include the victim's name, the date and location of the accident, and other details, including the time of day it occurred. Make sure you notify a family member of the fall, and record on the document whom you called and at what time the call was placed. Leave an area free for any notes you would like to record.
Find a witness, if you can. If someone witnessed the fall, ask her for any specific details and record them. In addition, ask the witness to sign the above document that records the details of the fall.
Create a document to record follow-up details. This should include any medical treatment that was given. Have each victim examined by a medical professional, even if it seems that what happened was just a minor fall; record the medical professional's findings on the document. Have the professional sign the form as well.
Ask a lawyer to look the forms over for you. You do want these to be legally binding. If a resident or family member decides to sue you for medical care, you can present evidence that you provided as much care as was reasonable for your situation.
Make copies of all of the forms after you have filled them out. Place one copy in the victim's file and send the other copies to the responsible family member on record. Include your contact information, in the event that the family member has questions about the accidental fall.