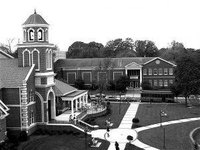 If you live near a college campus you may want to consider opening a college textbook store. Students are always looking for a way to save a few dollars. They don't want to buy brand new textbooks from the college at full price. If they have another alternative they will use it. Opening a college textbook store will give those students the alternative they are looking for.
Scout for a good location. Your bookstore store front needs to be within walking distance of the college or university. Not all students will have access to a vehicle. You will get the most business if your students can reach your store on foot. Once you find the right location you want to negotiate a rental price. The lower your rent, the higher your profit.
Call the college and get a list of textbooks that will be required that year. These are the textbooks you will want to purchase. Make sure your list includes workbooks and reference books. You may also want a list of calculators or tools that will be required for math courses.
Purchase textbooks from students. One student may have used a textbook the semester before and no longer have a need for it and will sell it to you. You can buy that book for $5 and then sell it to a student that is taking the same course this semester for $10. You then profit $5. Purchasing directly from students will make you more money than buying the textbooks from a company, because you eliminate shipping costs and production costs.
Purchase workbooks from online sources. Amazon.com sells tons of textbooks. They sell used ones that are like new very cheap. Workbooks are hard to buy from students because they are written in. You need workbooks that have no writing. Amazon.com offers that. You can buy the workbooks from the company that manufactures them, but you will make only a small profit on them.
Buy a computer that can set you up with a system to keep track of the books you need and the books you already have in your inventory. Dell is a well known company for setting up computers for their customers' specific needs. You will need to be able to track the books by title and ISBN number. Spend the time to get to know the computer program and then upload your inventory.
Make brochures introducing your store and hang them around the student lounges. Also place them in the student rec center, cafeteria and library. You may even want to pay a few of the students to distribute them around campus. Once the word gets out you won't need to do as much advertising.
Sell discontinued textbooks to other colleges or put them up for sale on Amazon.com. There is no reason to throw a good textbook away just because your college or university is no longer using it.