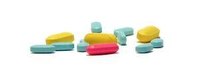 If your medicine chest is overflowing with half empty bottles of pretty colored pills that no longer have legible labels, the pill imprints can be useful in identifying what types of medications you have lying around. The Food and Drug Administration (FDA) requires that all pills be identifiable with an imprint. But this law only applies to prescription drugs. Therefore, supplemental medications and herbs are not subject to this law.
Go to a website such as RxList or WebMD. Websites of this nature will give you the tools that you need to positively identify the imprint on a pill along with descriptions, manufacturer information, uses and full color photos of the pill in question.
Fill in the drop box that asks for the pill imprint information. Pharmaceutical medications are required to have imprinted numeric or alpha symbols that can be used to tell what types of pills they are.
Input the pill color in the required drop box. Pharmaceutical companies also use color to help consumers identify different types of pills. The FDA has recently approved the use of metallic coloring to make the pills produced by different manufacturers really stand out.
Fill in the drop box that asks for the pill's shape. Variable shapes are often used to differentiate between pill types. Pharmaceutical companies have incorporated different shapes into varying types of medications as an additional way for consumers to tell pills apart.
Next, click the search button. A new window will open that displays the name of the drug, a description, manufacturer information, uses and a photo for positive identification. This process can be repeated with every pill imprint that you are not sure of.