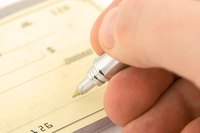 Filling out a check in Canada is very much like filling out a check in the United States. The basic structure and required information is the same and the verification process is also largely similar. With Canadian electronic check services available throughout Canada, Canadian merchants are able to confirm the accuracy and validity of a check as well as be certain the amount written can be drawn against an active account. These measures are taken to avoid bad checks from being passed. Before writing a check in Canada, it is important to review the proper guidelines for doing so.
Include your name and address in the top left corner. If the information has not already been printed or has changed since the check was printed, write it in now.
Write the date of the transaction on the check. Do not post date or write a future date on the check. Simply record the day, month and year the check is written. This date must reflect the day the check is passed on to a Canadian merchant or second party.
Complete payee information. The payee is the name of the Canadian merchant or person the check is written to and is the line located in the center of the check.
Write the payment amount as a numeric expression as well as in word form. For example, you would write "$50.00" after the payee line and then follow with "Fifty dollars" on the line directly beneath the payee line.
Add a memo or move to the right of the line and sign the check.
Verify banking information. If you bank with the Royal Bank of Canada (RBC), the bottom of the check will have a 3-digit check number, followed by a five digit transit number and a 6-digit account number. The RBC logo and address where the account is held will appear together above the memo line on the left side of the check.