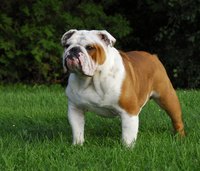 English bulldogs are prone to all sorts of skin irritations. While treatment varies according to the particular condition, prevention should be your primary goal. That means cleaning your dog's skin folds several times a week, feeding him a high-quality dog food and nipping any skin problems in the bud by taking him to the vet at the first sign of hair loss or lesions. Ask your vet about supplements that can help your pet maintain healthy skin.
Bulldog Puppy Acne
Just like young people, young bulldogs often develop acne. Usually, bulldog pimples and blackheads form on the chin, or in the groin, anal and genital area. It usually subsides after the dog's first birthday. Don't pop your pet's zits. Instead, wash the affected area daily with medicated soap, rinsing and drying thoroughly. Place antibiotic cream on the acne after washing. Your vet can recommend the best types of soap and antibiotic cream. Do not use acne treatments for people on your bulldog.
Skin Fold Dermatitis
Your dog's skin folds, or wrinkles, are part of his charm. They're also an ideal place for bacteria to breed, possibly resulting in skin fold dermatitis. The skin becomes red, inflamed and often infected. Clean the skin a few times a day with a cotton ball dipped in warm water and then thoroughly dry. Place an antibiotic ointment on the inflamed area. If the dermatitis doesn't improve within a few days, or starts to smell or develop pus, take your dog to the vet. She might prescribe oral or topical antibiotics. Serious cases might require surgery to remove skin folds.
Prevent skin fold dermatitis with regular cleaning. The Bulldog Club of America recommends using a cotton ball soaked in peroxide for wrinkle cleaning. After cleansing, powder the wrinkles with baby powder or corn starch for drying. Some bulldogs might need such cleaning once or twice weekly, while others require it on a daily basis.
Bulldog Red Mange
All dogs have a few demodex mange mites living on their bodies, to no apparent effect. However, demodicosis, colloquially known as "red mange," often occurs in bulldogs suffering from a bacterial skin infection. There appears to be a genetic predisposition to red mange in the breed, often triggered by a skin or immune system issue. Besides the skin infection, mange symptoms include a bad smell, hair loss and constant itching. It can start as one small bald spot, then spread all over the dog. Your vet makes a diagnosis via a skin scraping. Treatment includes antibiotics for the infection, daily medicated shampoos, a long course of the dewormer ivermectin to kill mites and supplements to boost skin health.
Acute Moist Dermatitis
Acute moist dermatitis is the formal term for "hot spots," those rapidly developing bald, painful areas that can make a dog miserable. Bulldogs are particularly prone to hot spots, which result from bacterial skin infection. Other symptoms include a bad odor and pus. Your bulldog can make it worse by incessantly chewing at the area. Since hot spots result from various triggers and can develop into a staph infection, take your bulldog to the vet as soon as possible.