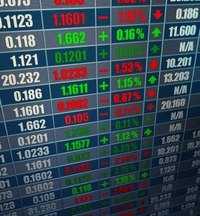 At some point or another, we have all become interested in making more money using the money we already have, i.e. investing. The stock market, if played correctly, is a natural way to achieve this goal. Though the thought of potentially losing thousands of dollars can be scary, a little luck, patience and a lot of research could lead to you returning your investment many times over. However, you cannot possibly hope to recoup on an initial investment until you understand the finer points of trading on the stock market.
Never blindly buy stock in a company. Look into the companies you want to buy shares in. Publicly traded companies tend to have their every move detailed on the Internet and in financial newspapers like the Wall Street Journal: Any major developments that may or may not affect their stock price could make headlines. Examine the histories of these companies and consider their financial stability. After you've considered your options, you can contact your stock broker with a list of company names.
Tell your stock broker to get you a prospectus for any of the companies you are planning on buying into. A prospectus is a document filled with facts and free of any speculation about a company, and it is prepared with existing and potential investors in mind. A prospectus provides things like financial statements, yearly earnings breakdowns and any legal dealings the company is involved in. Read over each prospectus carefully.
Consider how much you'll be investing in which companies. Remember that very few people become overnight millionaires investing in the stock market. Also consider exactly why you're investing: Are you putting money in for a large payoff decades down the road, or are you looking to make some kind of small profit fairly quickly?
Purchase shares in the companies you've decided on. If you're working with an online stock broker, this can be as easy as a few mouse clicks. If you're working with a professional, you'll need to place a phone call to relay the relevant information. Once this is done, the broker will purchase or sell the requested shares on your behalf. You should keep up to date on the stock price in the morning newspaper or in real time on sites like Google.