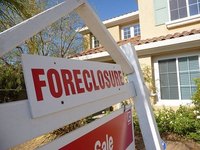 Buying a pre-foreclosure home is generally a tedious and drawn-out endeavor, but the upside can be worth the effort. Since the seller is usually motivated to avoid the foreclosure proceedings, investors can purchase a new home or investment property at a substantial discount.
Many times, a pre-foreclosure home can be purchased via a short sale for 10 percent to more than 30 percent below market price.
Things You'll Need
Funding/financing to purchase a property
Real estate attorney
Title company
Computer with Internet access
Newspaper
Telephone
Secure adequate financing. If you are a private investor, arrange financing from your lender of choice if you don't have enough cash to cover the entire purchase price.
Locate a pre-foreclosure property that suits your needs. Whether you are looking for a home for yourself or you're a real estate investor looking for a bargain, finding pre-foreclosure homes takes effort because they are not advertised like traditional homes for sale. Begin by checking your County Recorder's Office (looking for a Notice of Default) or checking your local newspaper, since foreclosures are a matter of public record. You can also pay seasoned real estate professionals to scour the market for you (Realtors, attorneys, bird dogs, etc.) or subscribe to an Internet listing service such as RealtyTrac.com.
Perform a visual inspection of the property. Examine the exterior condition of the property as well as the neighborhood surrounding your potential investment. If the property does not suit your needs, move on to the next opportunity.
Contact the attorney (e.g. trustee) who is handling the foreclosure proceedings for the lender. Before making the effort to contact the homeowner, confirm that the home is still in pre-foreclosure proceedings. You should also ask for all relevant financial information from the attorney, such as how much is owed to the lender, whether more than one mortgage exists on the property, and whether tax liens or property liens have been filed. You could also ask whether the attorney has made contact with the owner.
Estimate your potential savings. Once you have the property's financial information, you can figure your potential profit or how much money you can save by buying a pre-foreclosure property. Start by estimating the current market value of similar properties in the neighborhood subtracted by the homeowner's outstanding loan balance. You should also take into consideration the amount of your future mortgage payment (if any), the cost of home repairs from existing damage, or if any liens are held against the property.
Contact the property owner. This may be the most stressful point in the ordeal because you're dealing with people who could be losing a substantial amount of money and, more importantly, are losing their home. You could begin by sending a letter to inform them of your intentions to purchase their property. If you're an experienced face-to-face negotiator, you could try knocking on the door, introducing yourself and letting them know you'd like to purchase their home.
Begin negotiating with the property owner to purchase the property. Negotiations are always tenuous, but remember that you have a fairly strong bargaining position if the homeowner wishes to proceed with a short sale negotiation (see Wikipedia link below for full description). Be prepared to offer multiple solutions. The best solution for the property owner would be walking away debt-free, but in some cases this may not be possible. Sometimes the owner may be able to retain some or all of the accrued equity. Many scenarios are possible, so use your best judgment or consider hiring a real estate agent or attorney with experience in this area.
Contact the mortgage lender. Inform the lender that you are interested in proceeding with a short sale on one of its properties and begin the negotiating process. By offering an amount near what is owed on the property, you allow the bank to lose less money than if it acquired the property via foreclosure. Hence, everyone benefits from the deal. These types of negotiations are different for every deal and can only be accurately determined once you enter negotiations with the lender.
Close the negotiations after an agreement has been reached with all parties. As quickly as possible, transfer the verbal agreements into writing.
Contact a title company or a real estate attorney to draw up the necessary paperwork to purchase the property.
Close the deal and pay for your property.